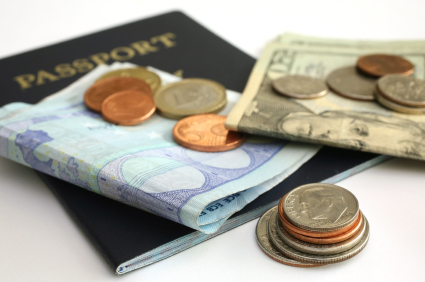 Thinking about a trip to abroad, but just can't figure out how to swing it on a tight budget? Well if you're a frugalista, recessionista or just don't want to part with your money too soon kind of girl, there are things that you can do that will save you hundreds of dollars. Here are some tried and true travel tips that always work for me. And trust me it won't hurt a bit!
Take Public Transportation… Get on the Bus
In most international cities like London or Paris it's convenient and less expensive to travel by bus or train. It's also the best way to get around in a "walking city". I generally get an unlimited travel pass for the week for the metro bus/train in Paris. Once, while vacationing in Monte Carlo, in the South of France, I dashed over to Italy by train for less than $20 US.
Travel with your BFF and Pool Your Resources
Plan a trip with your best friend and see great sites around the world by sharing the cost. I once traveled to Nice, France with my friend Greta… we planned every aspect of our budget. We even traveled-off season to bring the costs down on our hotel. We got a terrific deal at the Marriot with a view of the Mediterranean Sea for less than $200 US per night.
Skip Expensive Restaurants for Breakfast and Lunch and head to the Supermarket
You don't have to eat every meal at a restaurant or café. You can always drop by the supermarket for breakfast and lunch items (assuming that breakfast is not included in your hotel stay). I spent part of my summer in Paris taking a photography class a few years ago. Some of my classmates (professional students) told me that I could buy sandwiches at Monoprix for less than $2 US instead of the corner bistro for a lot more. Who knew? I also grabbed snacks and water for my room that lasted the entire week. I used my extra cash for dinner at some great French restaurants.
Shop at Secondhand and Thrift Stores
My favorite places to shop are often flea markets and resale shops. I have shopped in France, Mexico, the Bahamas and Brazil for items that are locally produced. I figured I could shop for high-end designer items anywhere, but I can't find Limoges Porcelain from France or gem stones mined in Brazil just anywhere. It's a great pastime to stroll flea markets on Sunday when I'm in Paris or Brazil. Unlike department stores or boutiques… you can bargain with vendors who are motivated to sell on the spot. Just be sure to bring cash!
Trade Hotel Points for the Best Hotels in the World
I absolutely love the Park Hyatt properties… I've stayed at the Park Haytt in Toronto, Paris and Chicago on gold passport or faster free night points. The best part about staying for FREE… it's free! Just think about the money that you can save. Plus, you get great service and spacious rooms. I love the French tea and Evian water in glass bottles that come complimentary in your room at the Park Hyatt in Paris. These properties are always in fabulous locations and the service is outstanding!